Description
The Fruit of the Spirit...
Grace in the Ordinary–a Mother's day mini gift collection
"But the fruit of the Spirit is love, joy, peace, patience, kindness, goodness, faithfulness, gentleness and self-control. Against such things there is no law."–Galatians 5:22-23
The calling of walking in godliness and faith takes God's Spirit working in and through us.
In and of ourselves, we can't live out our calling, but with His power, we are able–able to have these fruits and live them out in our daily, ordinary lives–turning our ordinary into extraordinary since we have this supernatural power behind us helping us be patient, for example, when it doesn't seem possible, or have joy despite our circumstances.
As mom's, we definitely need God's power to help us through the day to day, so this painting is a colorful reminder that His Spirit helps us bear these fruits.
This painting is a part of my Mother's day mini gift collection.  I sought to create really special and meaningful art that could serve as a way to touch the heart of your loved one, and speak louder than any words  could  say to express how much we love our moms :). 
I created 5 pieces of art, but then I have made different options available for printing–mugs, notebooks, candles, cards–so you can choose the perfect gift for your mom/loved one.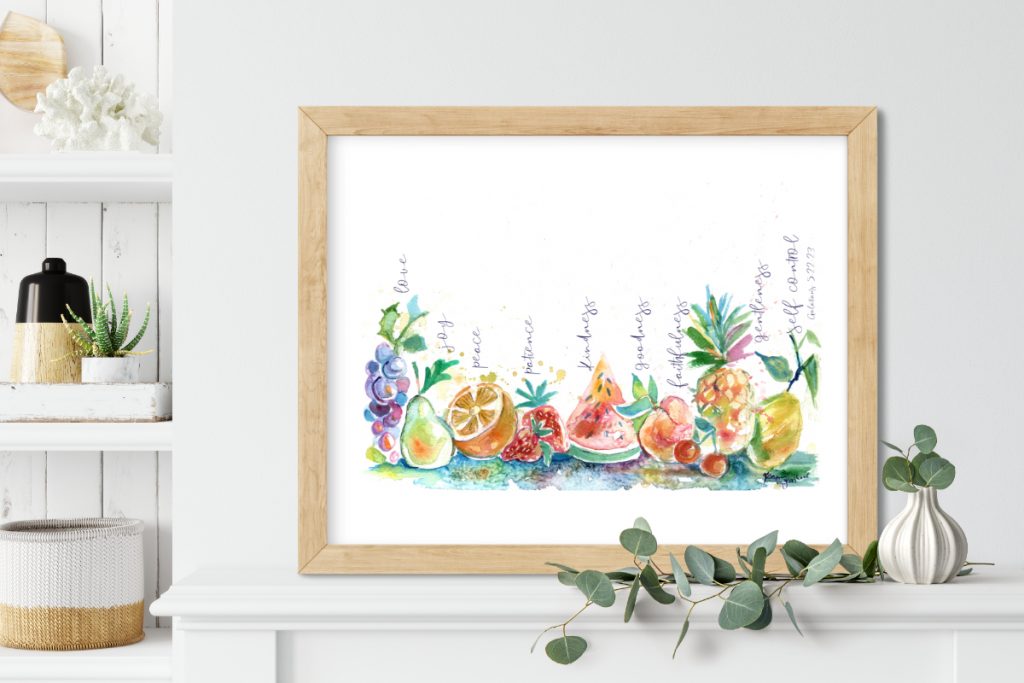 PRODUCT DETAILS:
 

Prints of artwork are printed on medium texture, cold press watercolor paper.

There are various size prints available for this artwork, as well as one original.  See the drop down menu for sizing options

Both the original art and prints do not come framed